Trademark Journal Watch Services in India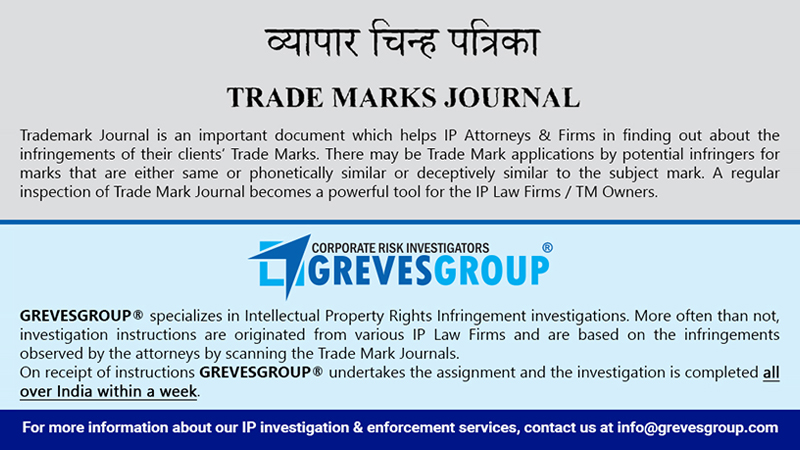 Trademark Journal is an important document which helps IP Attorneys in finding out about the infringements of their clients' trademarks. There may be trademark applications by potential infringers for marks that are either same or phonetically similar or deceptively similar to the subject mark. A regular inspection of TM Journal becomes a powerful tool for the IP Law Firms / TM Owners.

GREVESGROUP®️ specializes in IPR Infringement investigations. More often than not, investigation instructions are originated from various IP Law Firms and are based on the infringements observed by the attorneys by scanning the Trademark Journals. On receipt of instructions GREVESGROUP®️ undertakes the assignment and the investigation is completed within a week.

A typical trademark investigation involves a basic online search to assess background of the infringing party. The web search includes analysis of infringer's website, other third party portals, tax registration, trademark registrations and corporate registry details. Field investigation includes visiting relevant addresses of the party viz. corporate office, manufacturing unit, warehouse and any outlet. Enquiries are made discreetly to elicit maximum details of the party. Investigation team procures the sample from the party or through market survey. The market survey is a useful tool to gather further insight into the reputation of the infringer.

In addition to trademark use investigations, GREVESGROUP®️ undertakes various other investigations related to IP rights. These include:
• Supply chain/Distribution Channel investigations • Undercover operations • Sample/Test purchase • Date of first use/current use • Geographical scope of use • Abandonment/Intent to use (ITU) details • Internet archives • Telephonic and Electronic enquiries • Procuring marketing materials/Product samples/Photographs/Video • Advanced internet search • Media research • IP protection in Exhibition/Trade Fairs • Corporate Records Search • Surveillance

Our investigation reports assist the law firms to take a prudent decision for further course of action which may include sending C&D Notices or conducting Civil or Criminal raid.
Trademark, Copyright, Design & Patent Infringement Investigation Services
GREVESGROUP® provides Trademark, Copyright, Design & Patent investigations conduct in a discreet & confidential manner and all investigation information is corroborated with minutely checked reports which will be presenting to our clients. Trademarks, Copyright, Design & Patent started to play an important role with industrialization, and they have since become a key factor in the modern world of international trade and market-oriented economies. Industrialization and the growth of the system of the market-oriented economy allow competing manufacturers and traders to offer consumers a variety of goods in the same category.

Counterfeiters not only deceive the consumer but also damage the reputation of the genuine manufacturer, apart from which they do not pay taxes and other duties to the Government. Other such unfair practices consist in enticing away from competitors, or in inducing the personnel or agents of competitors to terminate their employment or agency contracts. As indicated earlier, these acts of unfair competition are frequently accompanied by the violation of trade secrets but may, nevertheless, constitute separate unfair acts. Merely inducing the clients or employees of competitors to change suppliers or employers by offering better conditions is inherent in free competition and cannot therefore be regarded as unfair.

If you urge to protect your Copyright & trademark from infringement, we are always on your service for the complete protection. On the basis of information provided by you we shall make research from various sources like Corporate Registrations, Falls Business name entries, research directories and internet databases to establish a profile of the entity we are investigating. After exploring the owner, we contact the individual or the company discreetly and enquire from them about the use of their mark. After completion of the investigation, the final report will be including:
COMPANY PROFILE
PRESENT USE/INTIAL USE OF THE MARK
DESCRIPTION OF GOODS/SERVICES
AREAS OF TRADE
USE OF THE MARK ON THE INTERNET
RELINQUISHMENT OF THE COMPANY
SUPPLY CHAIN
We are often able to obtain brochures, business cards or letterheads of the other company or product literature displaying use of the mark in question, sample products and/or photographs of signage or business places. Kindly ensure that all these items are requested in advance. We continuously strive to help our clients and our aim is to provide a consistently high standard of service at competitive compensations ensuring value for money. To obtain more comprehensive information related to our IPR services you may inquire on [email protected].